Brad Acosta is a black belt in Brazilian Jiu-Jitsu under Professor Geoff Balme (second degree black belt under the legendary Roberto Maia), as well as an accomplished kickboxer. After taking his first Brazilian Jiu-Jitsu class, he began training 6-7 days a week, multiple times a day if possible. This allowed him to earn his brown belt in 4.5 years, the fastest ever awarded by Professor Balme. Brad has a 1-0 MMA record and is an active competitor and winner on the US Grappling circuit. The ever increasing popularity of Brazilian Jiu-Jitsu has allowed him to compete against some of the best talent on the east coast in "Super-Fight" matches as well. A respected member of the BJJ community, Brad has also been a featured guest on the "BIG JIU-JITSU" Podcast.
Being a lifelong high level athlete and former professional soccer player has taught Brad the importance of dedication and sacrifice. He has taken that same mindset into his martial arts training and coaching. Brad oversees the Kids Brazilian Jiu-Jitsu program, and has created a curriculum that allows you to have fun, gain fitness & discipline, and most importantly – learn the art of self defense through Brazilian Jiu-Jitsu.
Randy Wark
Assistant Instructor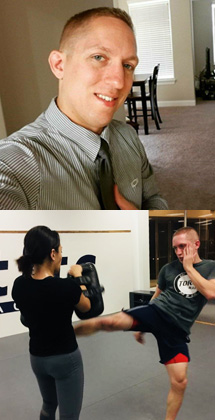 Randy Wark is a brown belt in Brazilian Jiu-Jitsu under Geoff Balme and Brad Acosta. Randy helps teach the kickboxing classes as well as Brazilian Jiu-Jitsu classes. An avid and passionate lifetime student of martial arts. He has studied a number of systems in over twenty years, including Muay Thai, boxing, wing chun, and kali, but discovered Brazilian Jiu-Jitsu in 2007, and has been hooked ever since.
Randy grew up idolizing his father who worked as a police officer in his hometown just outside of Buffalo, NY. After being honorably discharged from the Air Force, Randy pursued his dreams and became a police officer in Danville, VA, where he worked for five years before transferring to Cary, NC. 
With over ten years of experience, he has served in a number of capacities, including patrol operations and Street Crimes. He taught defensive tactics in Virginia, and currently serves as the Lead Defensive Tactics instructor for Cary PD. Additionally, Randy researched and developed "Pre-Assault cues," a curriculum that highlights precursors to violence, which has been taught to police and military personnel.
Randy has had the privilege of teaching to police officers, SWAT operators, Army Special Mission Units, as well as civilians. He was featured on the Big Jiu-Jitsu Podcast speaking on the hot button topic of use of force in law enforcement, and the effectiveness of Jiu-Jitsu for police. At TFTC Academy, Randy is passionate about spreading Jiu-Jitsu and kickboxing knowledge that he believes could one day save lives and help to protect loved ones. He is also a firm believer in the transformative power martial arts has in improving quality of life, as it has for him.
Jordan Wise
Assistant Instructor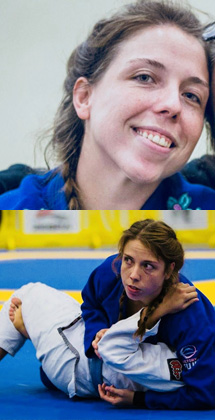 Jordan Wise is a Brazilian Jiu-Jitsu purple belt under professors Geoff Balme and Brad Acosta. She began training martial arts with an interest in Muay Thai and kickboxing, and slowly began training BJJ as well. In 3 1/2 years, she has earned her purple belt and has competed and won numerous IBJJF and US Grappling tournaments. She has also helped teach women's and children's self-defense seminars.
Jordan has always loved working with children (she worked at Marbles Kids Museum for 4 years) and is excited to continue doing so. She has helped coach the kid's class for the past year and loves watching our group learn. From strengthening fundamentals to exploring complex series, she is continuously impressed with kids' ability to pick up and excel and training.
Athletics has always played a big part in Jordan's life, playing soccer for 13 years and volleyball for 6 years. She enjoys staying active and finding new ways to challenge herself. In an effort to give back to her community, Jordan teaches women's self-defense classes and seminars at local non-profits and women's shelters across Wake County.