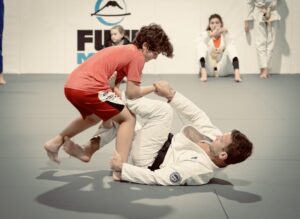 This martial art has grown tremendously in the United States largely due to Royce Gracie and his family using the art in "No Holds Barred" matches to demonstrate the effectiveness of Jiu-Jitsu when compared to other fighting styles.
All five branches of the U.S Military and many law enforcement agencies have embraced Jiu-Jitsu principals and techniques for combat and to deal with more and more individuals in the community with martial arts backgrounds.
People choose to train and learn Jiu-Jitsu for many reasons - from health and fitness, to learning to defend themselves against serious and dangerous attacks.
TFTC Academy's Brazilian Jiu-Jitsu classes are provided in a very controlled manner. Our instructors insure that students have the safety, respect, and well-being of their training partners as a top priority to prevent injury or damage to students.
If you are interested in learning the most practical and proven martial art practiced in the world today, please complete the following form to schedule a free training session.
Brazilian Jiu-Jitsu Photos